Shopping Cart
Your Cart is Empty
There was an error with PayPal
Click here to try again
Thank you for your business!
You should be receiving an order confirmation from Paypal shortly.
Exit Shopping Cart
De winter is weer voorbij gevlogen en het seizoen 2012 is inmiddels weer begonnen!!
2012, het jaar van de veranderingen. Zo moest de BMW E36 325i plaats gaan maken voor een nieuwe auto: een Ford Sierra 2.9 V6 Cosworth! Als basis is hiervoor een Ford Sierra gebruikt die vroeger nog in de VEGE Sierra Cup heeft gereden. De auto is opgebouwd door Marcel Robijn van RMS Holland.
Naast de nieuwe auto waren er ook nieuwe plannen, geïnitieerd door Maurice Zondag, eigenaar van F1Cast Racing en ExperienceTheExperience. Samen met Maurice rijd ik in een online kampioenschap bij www.srvn.nl. Het doel van Maurice was om het Simracen dichterbij het Real-Life racen te brengen, met behulp van een uniek concept: de online raceauto's tot leven wekken en deze laten racen op de echte circuits! Ik kon mij erg goed vinden in deze plannen en zo werden gedurende de winter deze plannen tot werkelijkheid omgebouwd en sinds 14-04-2012 is het dan een feit: het eerste Nederlandse Online Raceteam is nu ook een Real-Life Raceteam, met auto's in dezelfde kleuren!!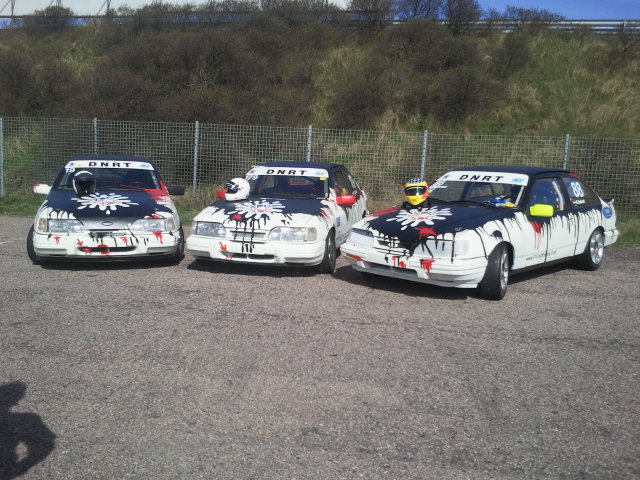 En toen was het eindelijk zover. De auto's konden hun eerste meters gaan maken tijdens de vrije training!
In mijn eerste ronden vind ik de auto nog wat stuiteren en ben ik erg op zoek naar de juiste rembalans. Na 2 ronden kom ik binnen omdat de ruitenwissers los zijn gekomen. Nadat deze weer zijn vastgedraaid kon ik mijn weg weer vervolgen.
Na nogmaals een 2-tal ronden besluit ik om weer binnen te komen. De auto danst te veel en ik voel dat er iets niet goed is. Na controle blijkt dat de schokdempers aan de voorkant het lange stilstaan niet overleefd hebben en dat deze lek zijn. Een teleurstelling volgt, omdat het erop lijkt dat het debuut met mijn nieuwe raceauto voorbij lijkt te zijn, nét nadat het eigenlijk is begonnen...
Dankzij knap werk van Marcel Robijn, zijn zoons Michael en Kevin en mijn engineer Danny Hollander, kan ik toch gaan racen! Helaas moet ik de kwalificatie missen en als laatste starten, maar er kan in ieder geval geracet worden!!
Race 1:
Doordat mijn andere teamgenoot voor mij in de pitbox staat met een probleempje dat snel verholpen kan worden, komen we toch te laat aan bij de vooropstelling en moeten we vanuit de pitstraat starten. Met flinke achterstand mogen we dan eindelijk de baan op en is het gelijk serieus racen!
In mijn eerste ronden haal ik al een paar mensen in en de volgende ronde gebeurt hetzelfde. Na een paar ronden krijgen we een code 60 en kan ik de auto op rustig tempo even flink heen-en-weer schudden om te voelen of alles zit zoals het moet zitten (na vervanging van de schokdempers) en kan ik wat proberen met de rembalans. Tevens is dit een uitgelezen moment om vertrouwd te raken met de auto.
Nadat we weer losgelaten worden, volgen nog wat goede rondes en uiteindelijk kom ik op plek 30 over de finish: een winst van 12+1 plekken!
Race 2:
Beginnend vanaf plek 30 heb ik nu het geluk wel de opwarmronde mee te kunnen pakken. De auto die voor mij op de grid zou moeten staan, spint tijdens de opwarmronde. Dit geeft mij wat extra ruimte bij de start!
Bij de start kom ik echter slecht weg (het sperdifferentieel is nog niet gemonteerd en dit is goed merkbaar door de hoeveelheid wielspin bij de start en bij het uitkomen van de bochten, hierdoor verlies ik erg veel tijd iedere ronde) en wordt ik door een aantal auto's al gelijk ingehaald.
Eenmaal de tractie te pakken hebbend, schieten we met 3 auto's tegelijk naar de Tarzanbocht, waarbij de auto links van mij (een Toyota Yaris met nummer 29) probeert in te sturen terwijl ik daar nog zit. Helaas is contact onvermijdbaar (ik kan immers niet naar rechts omdat daar Gideon Wijnschenk met zijn Porsche Basic rijdt) en raken de Toyota en ik elkaar. De Toyota gaat hierbij helaas dwars door de Tarzanbocht maar gelukkig lijkt de schade mee te vallen!
De rest van de race hele leuke gevechten gehad op de baan, vooral met Gideon en een BMW Compact! We zitten steeds bij elkaar in de buurt en het is steeds stuivertje wisselen. Dan raak ik een beetje achterop bij de 2, maar doordat zij elkaar steeds bezighouden, kan ik met het eind van de race in zicht, toch nog dichterbij komen. Gezien hun gevechten op de baan is het wachten op een foutje en dan moet ik toeslaan. Ik moet dus in de buurt blijven!
Het bord voor de laatste ronde wordt getoond en ik ga er nog eens goed voor zitten. In de Gerlachbocht komen de BMW, gevolgd door de Porsche, erg dicht bij elkaar. De BMW lijkt een remfoutje te maken en de Porsche kan net op tijd reageren. Beide verliezen echter veel snelheid en ik voel dat dit mijn laatste kans is! Als een duveltje uit een doosje weet ik de 2 te omzeilen en de rest van de ronde achter me te houden!! Op de valreep dus nog 2 plaatsen winst! Uiteindelijk wordt ik als 25e afgevlagd.
Met het vallen van de vlag is dan ook de eerste racedag, die we eigenlijk meer zagen als testdag, tot een einde gekomen. We weten inmiddels wat we moeten doen om sneller te zijn en meer voorin mee te kunnen draaien. Met de wijzigingen in het vooruitzicht moeten er nog minimaal 6 seconden van mijn tijd af kunnen en daarmee is het gelijk mogelijk om voor de prijzen te strijden!
Nu is het zaak om de wijzigingen door te gaan voeren en te hopen op wat financiële steun, zodat we ook op 9 mei 2012 in Assen aan de start kunnen gaan staan van de 2e racedag van de Toerklasse van het DNRT.
Wordt vervolgd!
Categories: None
/